MAR 24, 2016 BY CYNTHIA REASON   ETOBICOKE GUARDIAN
Source: https://www.toronto.com/news-story/6404851-richview-baptist-hosts-block-party-raising-funds-for-work-in-nicaragua/
Nearly a decade ago, Richview Baptist Church challenged its youth to reach out to the Etobicoke community in a way that would benefit people in need a world away.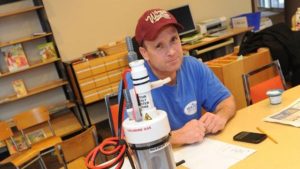 The result of that challenge? An annual fundraising garage sale, silent auction and barbecue event now going into its 10th year. It has raised enough money to send more than 100 youth volunteers on mission trips Nicaragua that have "left our footprint in a community a world away," said Paul Payne, a deacon and youth co-ordinator at Richview Baptist.
"We have seen the fruits of our labour in tangible ways," said Payne, noting that Richview Baptist's annual garage sale has raised enough money over the last 10 years to help fund:
* the drilling of a well that now provides clean water for more than 3,000 people
* the repair of nine broken wells
* the construction of six homes in the mountains
* the installation four chlorinators
* and free dental care for approximately 200 people within two Nicaraguan villages over the last three years.
"The communities of San Jose and El Salto in Nicaragua have been empowered to sustain a healthy lifestyle and be self-sufficient in maintaining their water systems," said Payne of the results of Richview's efforts. "And our dental team has performed extractions, fillings and cleanings to a communities that rarely or never had any professional care."
To celebrate those accomplishments and to ensure that the good work continues, Richview Baptist is set to host its 10th annual Garage Sale Block Party on Saturday, May 7 from 8 a.m. to 2 p.m. at 1548 Kipling Ave.
In addition to the traditional garage sale, the rain-or-shine event will also include a silent auction featuring more than 200 items up for bid, a barbecue, a petting zoo, a reptile show, and a raffle.
Funds raised from the sale will help send a team of 17 Richview Baptist volunteers back to Nicaragua in August, where Payne said they are planning to construct yet another home, repair three more wells, and provide more free dental care to make "a life-changing impact within those communities."
"In order to realize that vision, however, we need to call on our community for their support," he said. "This year, we are really reaching out to the community to let them know what we're doing, because we want them to come out and be a part of this good work. We want people to know that this is a big year for us and that we're going to be doing some pretty awesome things in Nicaragua – we just need the community's help to get there."
To those ends, Richview Baptist is currently seeking donations of salable items for its upcoming garage sale.
Items being sought include: new and used clothes, toys, kitchen ware, books, china, jewelry, electronics, furniture, bikes, shoes, sporting goods, restaurant gift cards, gift baskets, retail gift certificates, etc.
"Through this sale, we will be transforming these donations into life-changing resources, so that we can leave our footprint in a community a world away," Payne said.
Donated items can be dropped off at Richview Baptist, 1548 Kipling Ave. (two blocks north of Eglinton Ave.) on Wednesdays from 7 to 7:30 p.m. and on Sundays from 9:30 to 10 a.m.
For more information or to volunteer, call the church office at office@richview.org or 416-247-8701.